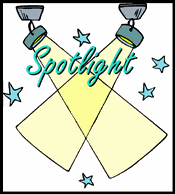 First, I'd like to thank Lily from
Never Fading Wood
for spotlighting me this week. She has a wonderful blog that when you read it, you instantly realize how well educated, and yet readable her writing is. She reviews books that you have no idea ever existed. She tells us all kinds of library secrets. But it's her thoughts that draw me in the most. She makes you think, without making your brain hurt.
But I'm not spotlighting Lily this week.
This week, I am SPOTLIGHTING Katlupe from
Homesteading on the Internet
This is another of my favorite blogs. This blog is both artistic and informative. The photographs are genuinely beautiful. Kat's thoughts are both introspective and informative. Kat sees things that we all should be seeing, but don't because we are too busy. I hope you will visit her blog soon. You'll mark her as a favorite once you do.